Fire & Life Safety Inspections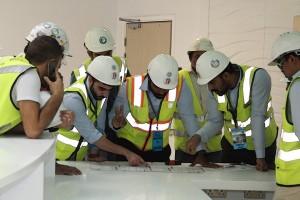 Fire and life safety inspection is the process of ensuring compliance with all related codes, standards, and other regulations. Handing-over delays due to compliance issues can be minimized or avoided with the help of Profire's Specialized Inspectors.
From the first site visit, Profire's Engineers will identify the non-compliance's in all Fire and Life safety-related elements, such as fire compartmentalization, systems' installation and performance, components of the means of egress etc.
Our Team will provide the necessary solutions or alternatives to rectify or improve the deficiencies, ensuring the code-compliance and cost-effectiveness.
Profire's site inspections and reports will help you to:
Capture a snapshot of the site conditions
Improve methods or materials where necessary
Implement innovative solutions
Accomplish the desired and required Fire and Life Safety level
Furthermore, our Inspection Engineers will provide all the essential information, clarifications and guidance for the site Engineers towards the improvement of a Fire and Life Safety culture.